DNA Project highlights the importance of preserving the crime scene and DNA evidence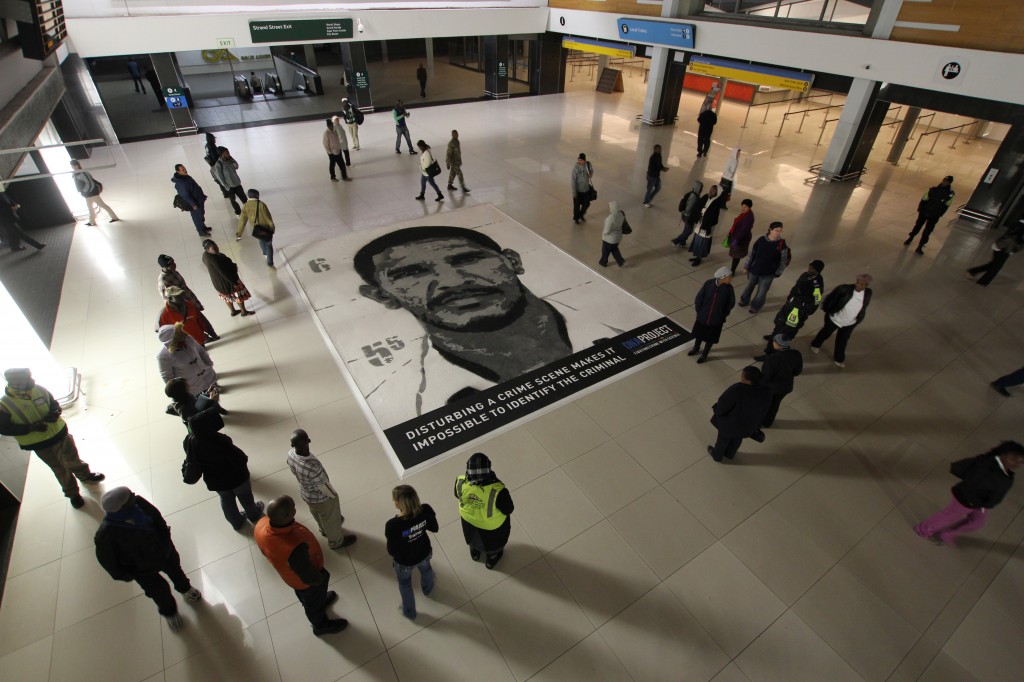 Tuesday, May 15, 2012: The DNA Project is a Cape Town- based initiative whose mission it is to raise awareness of the importance of DNA preservation at crime scenes, and in 2011 it combined forces with FoxP2 and created a TVC called 'The Cigarette that saves lives' which was flighted on Top TV last year, and DSTV and MNET in 2012.
To support the message of the TVC the creative team at FoxP2 conceptualized an activation to represent the loss and damage that first-on crime scene responders as well as the general public can effect to evidence left at a crime scene.  The activation took place on Tuesday morning, May 15, 2012 at the Cape Town Train Station and will show, using time-lapse videography of the activation, how the lack of proper preservation of a crime scene can destroy valuable evidence and the chance of a conviction.  The video of the activation will be posted on YouTube for public viewing.
The activation consisted of a large (8m x 6m) sand box filled with tiny stones of various colours depicting a mug shot of a convict holding up an ID board.  This box was placed in the busy open hall area of the Cape Town Metrorail station.  Commuters were encouraged to walk over the box, thus blurring the mug shot and making it increasingly difficult to see the convicts' face.  The idea got the public involved in demonstrating how disturbing a crime scene can prevent criminals from being identified.
Commuters walking over the box and disturbing the image was captured using time-lapse video. This will be edited into a viral that is played at high speed in under one minute and used in a campaign over the social media network to spread awareness.
About The DNA Project:
After her father was brutally murdered in his Johannesburg home in 2004 and all traces of DNA and other forensic evidence were lost, destroyed and neglected due to the inexperience and lack of crime scene preservation awareness of the first on crime scene responders, Vanessa Lynch realised that something needed to be done to address this issue in SA and founded The DNA Project.   (See notes to editor).
Based on Interpol figures South Africa has high but manageable levels of property crime but an extraordinary high level of violent crime. It is South Africa's high level of violent crime that sets the country apart from other crime-ridden societies; this finding is supported by CIAC data indicating that since 1994 recorded violent crime has been escalating at a faster rate than any other crime category.  It is primarily violent crime that fuels people's fear of crime. To lose its label as crime capital of the world, violent crime levels have to drop substantially in South Africa, http://www.iss.co.za/pubs/CrimeIndex/01Vol5No1/World.html, as well as have our rate of conviction dramatically increase.