The importance of understanding your insurance policy…a true story!

2012 has in many regards been a great year for me, it has been positive in many aspects! I started a great new job, out of the blue I found myself in a wonderful relationship; the list goes on-and-on. However, the one downside has been that like many South Africans I have been a victim of crime.
The reality is that we do live in a society where crime has become a part of everyday life. We have all been a victim of crime multiple times, or we know somebody that has been. In March this year my house was broken into while I was at work. Apart from the house being ransacked, a couple of prize items were stolen, such as a laptop, DSLR camera, lenses, plasma screen TV etc..
Luckily enough only a few smaller items of mine were stolen, which I never claimed for – however my housemate was not as fortunate. Having said that, fortunately for him he was covered for theft and his items were replaced up to the value of R27 000,00 within three days.
Last week Tuesday my house was burgled again. This time I was not as fortunate, nevertheless I was not too stressed as I had household insurance cover to the value of R50 000,00. Seeing that I am insured by the same copy as my housemate I thought it would be a walk in the park to have my claim paid out.
Exactly the same items were stolen this time as the previous time. Remarkably a LED TV and Samsung Blu-ray player were not stolen on both occasions, although they were thrown on the floor on both occasions. One thing I have to mention though, is in that in March [a week before the robbery] we had our hot water geyser replaced. Funnily enough, these same plumbers that installed the geyser  returned to sort it out a few days before the latest burglary. I, along with the police and my housemate saw a pattern here. Needless to same we listed them with the police as suspects. The investigation is ongoing.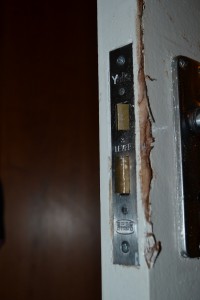 Back to the topic – as I thought I was fully covered, I did not stress too much until a few days after my claim as submitted. I was phoned by the insurance company and informed that my claim had been rejected as I only have "Limited Cover" which does not include Theft. I freaked when I heard this news and was incredibly upset for the entire weekend.
My first impression on receiving this news is how ridiculous is having 50k's worth of cover and not being covered against theft. This is where I stress how important it is to fully understand what the person at the call centre is telling you when they setup you policy. The reality is that 90% of call centre operators do not grasp the English language very well and do not always speak as clearly as they should.
My mistake was not having this person assisting me when I setup my policy to repeat himself loud and clearly when I did not understand anything. If I could make a recommendation it would be to insist on speaking to someone that speaks English as a first language, providing of course that you are English. Insist on speaking to someone that has the same home language as you. After your policy has been setup, speak to somebody that knows and understands the insurance industry and have them explain the exact situation of your policy.
I have lost an estimated R42 000,00 worth of property because I did not understand I had no theft cover.
There are however a few things that you can do should your claim be declined:
•Read the fine print of the policy. You may find that the reason(s) for rejection may not necessarily be exhaustive.
• Insist on listening to the recording, all call centres record the telephone conversations and this is for your use. It could be that you could have been distracted and may have missed something, which opens up a case for an appeal.
• You have 90 days to appeal your claim was denied. Upon which the insurance company will reinvestigate the claim.
• Should your appeal be declined, you may address it with the Short Term Insurance Ombudsman (www.osti.co.za). For any compliance/non-compliance matters relating to FAIS or the Policy Holder Protection Rules, you may address these with the FAIS Ombud (www.faisombud.co.za).
My appeal has been lodged and the outcome is pending – I truly hope that none of you will not suffer the same fate as I have. My above-mentioned advice should assist you should you become yet another statistic. [Morgan Piek]