All highway heroes should have the chance to change their lives
Competitions are often mostly to the advantage of those who offer them. But when they transform ordinary people's lives, they're special.
Take the case of Stephen Meje, for example. He's the 2018 winner of Hollard Highway Heroes, an annual competition staged by the insurer's Trucking division to find South Africa's best truck driver.
"I'm overwhelmed … I'm very happy," Meje had said shortly after winning the competition. "The prize means a lot to me, to change my life – to change my family's life. I've never had such money."
And what a boon the R100 000 grand prize Meje won has been to him and his loved ones: it allowed him to both renovate his home and pay for his daughter's university fees.
But the great beauty of Hollard Highway Heroes is that because it encourages better truck driving, it leads to safer roads. So everyone benefits: truck drivers, their employers, insurers such as Hollard, and of course you, me and the people we treasure.
This is why, for the 2019 competition, which launched on 1 April, Hollard is taking things a step further: whereas in the past Highway Heroes was open only to drivers who work for Hollard Trucking clients, it's now open to all long-distance truckers, irrespective of their insurer.
"The benefits of Hollard Highway Heroes are plain to see," says Hollard Trucking head Wayne Rautenbach.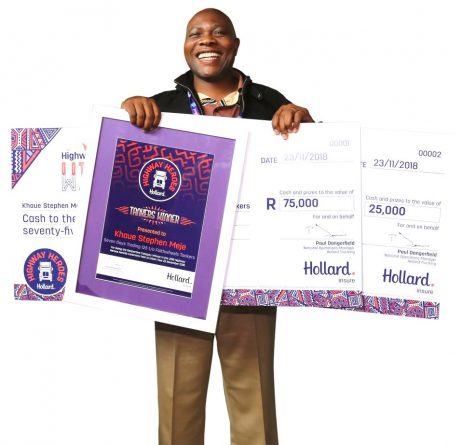 "We've measured a massive in-competition improvement in truck driving of 65% – and we've observed that drivers tend to retain their better habits long after the competition's over.
"Now imagine that if we can inspire thousands more truck drivers every year to be the best they can be on our highways. The enhanced positive impact on road safety can be profound."
Besides, competition manager Elka du Piesanie points out, Hollard Highway Heroes takes as its point of departure that all trucker drivers are heroes – and all should have a chance at winning big.
"Trucks keep our economy on the go; without them, it would falter. Truck drivers ensure we get everything we need and want, to where we can access them. And they put up with danger and long separations from their loved ones for our convenience.
"All truck drivers are therefore highway heroes to us. We want them to know that, and we want them to all have the opportunity to be a part of something that's transformational for them – and the rest of us," Du Piesanie says.
We're looking for a hero – the hero – on our highways!! https://t.co/6SINqhUNaJ #ArriveAlive #RoadSafety #HollardHighwayHeroes @Hollard @transport_fund @CtrackSA @Fidelity_Secure @MasterDriveSA pic.twitter.com/iRb1SVCSHt

— Arrive Alive (@_ArriveAlive) April 10, 2019