Regent Insurance Group announces signing of a new sponsorship with Boland Rugby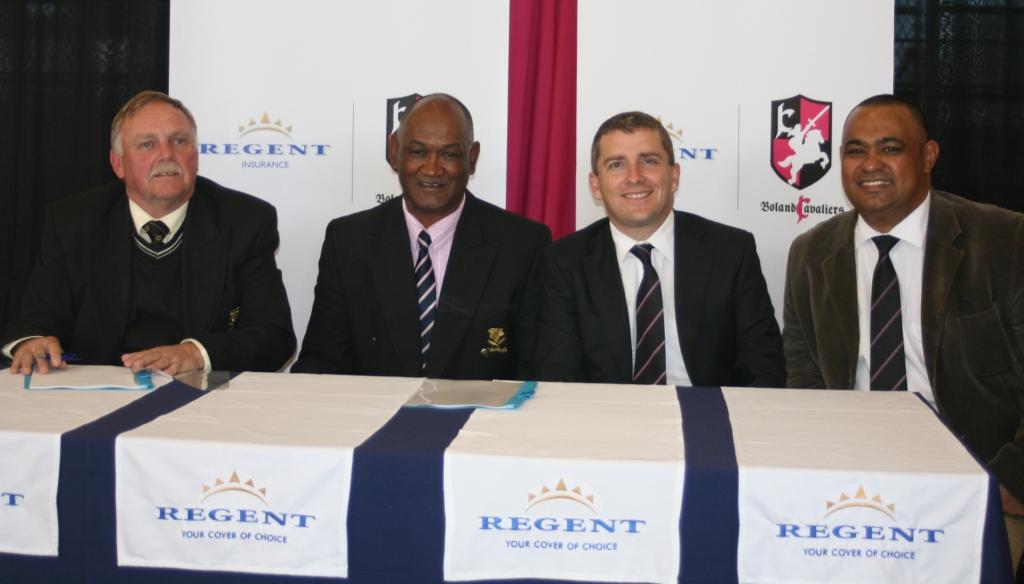 Regent Insurance Group announced the signing of a new sponsorship with Boland Rugby (Pty) Ltd at Boland Park in Worcester. The new sponsorship agreement extends the partnership from 1 July 2013 to 30 June 2014 with a further renewal option for 1 July 2014 to 30 June 2015. This has been a rewarding sponsorship for both stakeholders and Regent has committed to continuing its investment both with Boland Rugby (Pty) Ltd and the surrounding community.
"From the outset of coming together of the two parties in June 2011, Regent was quite keen towards the relationship with the Boland Rugby community. Our mission has always been to become a partner to Boland Rugby and not just a sponsor," said Mr. Jurie Strydom, CEO of Regent Insurance Group.
The organisation's loyalty to supporting the committed Boland Rugby Union executive, Regent Boland Cavaliers' technical management and talented players, has resulted in a very focused team proving a sustainable drive towards restoring the team's place in South African rugby.
Mr. Francois Davids, President of Boland Rugby Union expressed his appreciation saying, "This is a humbling gesture for Regent to extend their partnership with Boland Rugby. We are very pleased with this development. We will continue to be the team player you certainly can count on."
The sponsorship of the Regent Boland Cavaliers has been mutually beneficial to both stakeholders since it is proving to assist Boland Rugby in their quest to regain their rightful place in the Premier Division of the Currie Cup. This has been evident in the team's sterling performance that saw them acquiring pole position and crowned the winners of the 2011 First Division Currie Cup. Regent also supports the Boland national club champs and several junior teams in addition to their partnership with Boland Rugby (Pty) Ltd and local businesses in the community.
Similarly this venture has been a positive catalyst for Regent and has seen the organisation establish its brand within the Western Cape. The launch of the Boland Cavaliers Financial Services business in Wellington is another venture that has developed from the successful partnership.
With their initial aim to develop an equally rewarding association, the Boland Rugby sponsorship is complementary to Regent's strategy of becoming more involved in various communities, both from a commercial and social development perspective.
"Since coming on board in 2011 as the "Title Sponsor" of Boland Rugby's professional team, Regent has made a massive impact in the Boland community. Not only have they given the Boland Cavaliers and the Boland Stadium a more professional 'look and feel', they have also made massive contributions in terms of social responsibility and local business support in the Boland community," said Mr Davids.
"We have already processed significant funds to local enterprise development beneficiaries, a sure sign that Regent understands the plight for sustainable growth by emerging businesses, as such we are dedicated in facilitating this South African economic goal. This initiative will not only assist these beneficiaries to grow their businesses, but will also create employment in the region.
During the month of June 2012, we also presented ten schools with considerable financial aid in line with our socio- economic development objectives. This investment will go a long way towards several much needed school projects namely – bursaries for learners, purchasing of carpets, heaters, development of sports fields and equipment, learner transportation to and from school – to name a few," added Mr. Strydom.
With over seventy years of rich rugby history and proven know-how, it is no wonder the Boland Rugby Union commands in excess of two hundred and thirty clubs, the largest base of clubs in South Africa.
Regent's heritage stems from a diversified multinational mobility group, the Imperial Group family. The Imperial Group's activities span motor vehicles and related operations across all modes of transport for people and freight – both locally and abroad. As part of this family, the Regent culture is based on entrepreneurship, innovation and sustainable growth.
As the title sponsor, Regent wishes the team all the best as they soldier through the 2012 log.
We call upon everyone in the Boland to once again, come and support the Regent Boland Cavaliers and their matches. We look forward to a strengthened partnership with the new sponsorship and the investment in various local businesses and community schools.