PUMA Celebrates Blue Bulls 75th with commemorative kit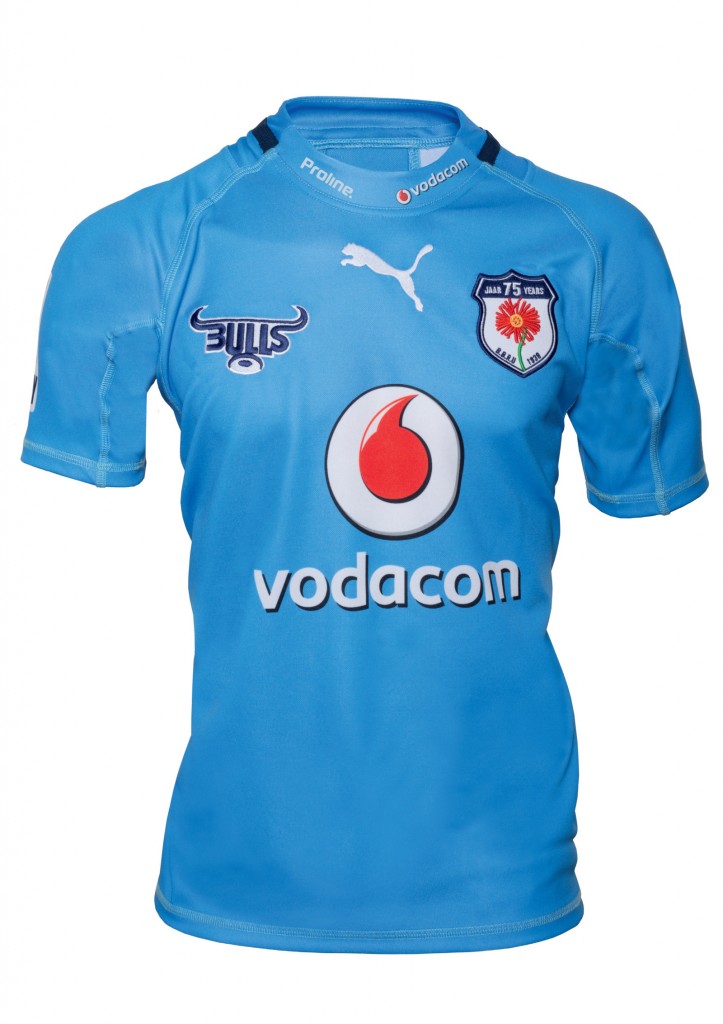 PUMA has designed a "vintage" commemorative and limited edition jersey to mark the 75th Anniversary celebrations of South African rugby legends The Bulls.
The Vodacom Bulls will sport the kit when they play two warm up games, one against the Lions on 2 February 2013 at Orlando Stadium and one in Polokwane against the Toyota Cheetahs on 9 February 2013, as well as an official Vodacom Super Rugby match at Loftus Versfeld against the Toyota Cheetahs on 13 April 2013.
The kit has an "Old School" feel inspired by the original Blue Bulls jersey from 75 years ago and PUMA used sublimation to make the colour look as similar to the original as possible. The jersey also has an embroidered 75th Anniversary badge which will be used on all Vodacom Bulls and Vodacom Blue Bulls rugby kits for the duration of 2013.
Fans will be able to buy replica jerseys as well as short and long-sleeved vintage polo shirts inspired by the original Bulls rugby jersey, sporting the 75th Anniversary badge and the Bulls logo.
"The jerseys and fanwear have the embroidered 75th Anniversary badge and numbers on the back have been executed in a very traditional way, bearing homage to the strong roots and traditions of the Bulls faithful," said Brett Bellinger, PUMA South Africa's Marketing Director.
"PUMA is proud to be associated with the Blue Bulls Rugby Union and their players, teams and fans who have provided South Africa and the rugby playing world with some of the most memorable rugby moments. PUMA congratulates the Union on their 75th and we wish them all the best for the upcoming season."
The Blue Bulls Rugby Union is excited to play in the 75th Anniversary jersey. "For 75 years the Northern Transvaal traditional outfit formed part of our rich history and this year we commemorate 75 years of tradition, team spirit, partnership, pride and success. May we all enjoy the 75th kit to honour our heroes of the past," said Union President Louis Nel.
The replica jersey will be available at PUMA stores and selected stockists including Cross Trainer, Tekkie Town, MB Sports Centre and Solomons Sports from the second week of February 2013, and will retail for R899. The polos will be available in navy or light blue in short sleeves or long sleeves for R349 and R399 respectively.
PUMA
PUMA is one of the world's leading sportlifestyle companies that designs and develops footwear, apparel and accessories. It is committed to working in ways that contribute to the world by supporting Creativity, SAFE Sustainability and Peace, and by staying true to the principles of being Fair, Honest, Positive and Creative in decisions made and actions taken. PUMA starts in Sport and ends in Fashion. Its Sport Performance and Lifestyle labels include categories such as Football, Running, Motorsports, Golf and Sailing. Sport Fashion features collaborations with renowned designer labels such as Alexander McQueen, Yasuhiro Mihara and Sergio Rossi. The PUMA Group owns the brands PUMA, Cobra and Tretorn. The company, which was founded in 1948, distributes its products in more than 120 countries, employs more than 9,000 people worldwide and has headquarters in Herzogenaurach/Germany, Boston, London and Hong Kong. For more information, please visit www.puma.com.