Light Commercial and Medium Commercial Vehicles Sales support continues strong vehicle sales in June 2013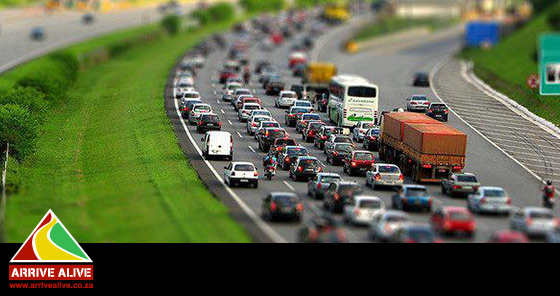 Sales Performance Summary – Total by Market Segment (NAAMSA flash includes Namibia, Lesotho, Swaziland & Botswana):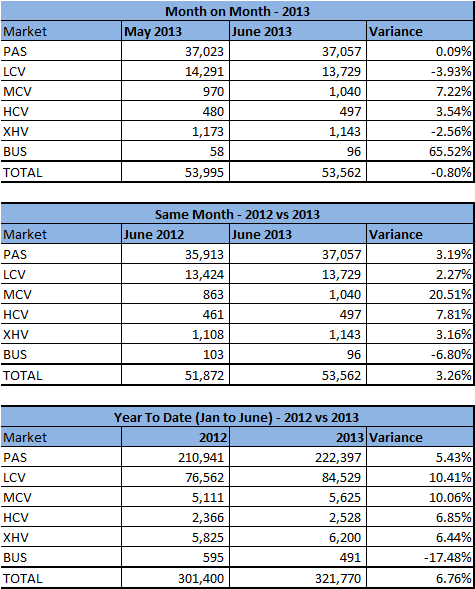 Sales Performance Summary – Exports: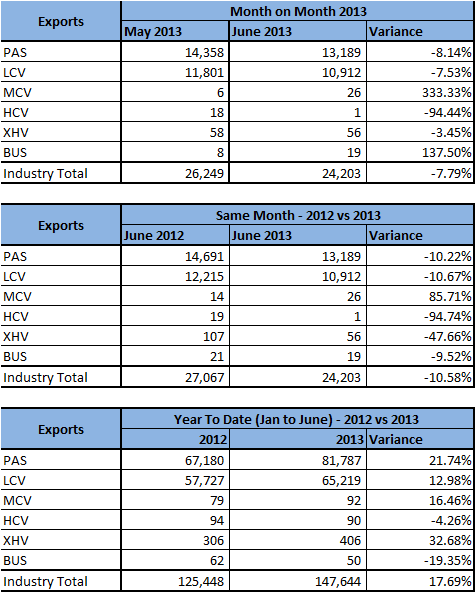 Sales Performance Summary – AMH: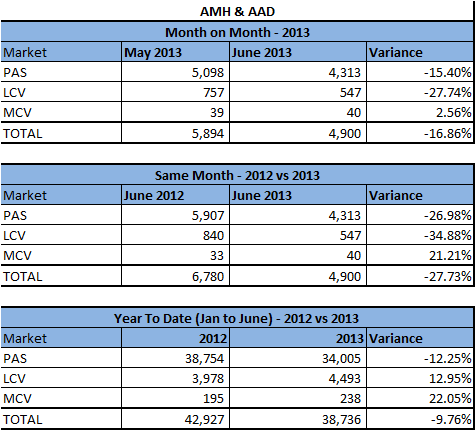 General Comments on June 2013 NAAMSA sales:
The month of June 2013 experienced 0.80% less sales than May 2013.
Year on Year comparison shows an increase of 3.26% in June 2013 compared to June of 2012. Importantly, the average sales per day in June 2013 outsold June 2012 by 2,232 to 2,075.

Year to Date (January – June 2013) comparison indicates a growth of 6.76% in 2013 compared to the same period last year. This equates to 20,370 more vehicles sold for the first six (6 months) of 2013 compared to 2012.
The main contributors to this year's growth were Light Commercial and Medium Commercial Vehicles, with growth of 10.41% and 10.06% respectively. Year to Date Passenger, Heavy Commercial and Extra Heavy Commercial vehicles all experienced above 5% growth. Only Busses had negative growth but this was in small volumes.
The average number of sales for June since 2010 has been 45,541 (excl June 2013) and on average June has ranked as the 9th best month since 2007. June 2013 has in fact surpassed the average number of sales, (53,562 to 45,541), and has ranked 13th best out of the last 78 months. Interesting to note that if we compare the first 6 months of the previous year's (since 2007), June on average ranks 4th best.
General Macro and Industry Comments:
GDP growth for Q1:2013 was lower than expected at 0.9%. Although the first quarter GDP growth is usually low, the 0.9% experienced in the first quarter of 2013 is the lowest GDP growth since the second quarter of 2009 (-2%).

The SARB has revised down the GDP forecasts from 2.7% to 2.4% for 2013 on the back of slow economic growth. Whilst the Standard Bank Research team has revised their projection of 2.5% growth downward to 2.3%

The headline CPI (for all urban areas) annual inflation rate has dipped to 5.6% in May 2013 from 5.9% in April 2013.

This is due to the food and non-alcoholic beverages index remaining constant at 6.3% between April 2013 and May 2013, and the transport index decreasing by 2,0% between April 2013 and May 2013.
Inflation is expected to hit 6.3% in July and August and regress to within the target range in September 2013. (Standard Bank Research)

The Rand has been depreciating against major currencies for some time but has come under immense pressure in June, with the Rand experiencing a 4 year low against the Dollar.

It is expected that the Rand will remain on the back-foot until global prospects brighten and commodity prices turn the corner.
The Exchange Rate will impact the vehicle market through VPI and indirectly through the fuel price fluctuations.

The current Mining Sector wage negotiations are characterised by very high wage increase demands that will put a strain on the employment figures that have seen an unemployment rate increase of 0.3% from 24.9% in quarter 4 of 2012 to 25.2% in quarter 1 of 2013. (Source: Stats SA, information derived)
Comments on Vehicle Sales Outlook:
Vehicle sales volumes may still be boosted by the following factors:

The Prime Interest Rate remains at its lowest for over three decades, and continues to play a major part maintaining the South African consumer's appetite for debt.
VPI for Q1:2013 has so far remained below CPI.

However, the Rand has been under pressure against all major currencies, and this will have a negative knock-on effect on Vehicle Price Inflation (VPI).
VPI for Q1 of 2013 for new car prices is at 2.4%. This is up from 2.2% in Q4 of 2012.
VPI on Used cars has in contrast decreased Quarter on Quarter. Q1 of 2013 is at -1.4% compared to Q4 of 2012's 3.6% and 2012's annual 2.2%.
Manufacturers' marketing and incentive programs in a competitive industry will continue to positively spur sales of vehicles.
Replacement cycle imperatives.
The following factors are expected to provide subduing effects on vehicle sales numbers:
The expected low GDP growth.
The Rand's weakness will transfer onto energy costs and in particularly fuel prices. Fuel prices have risen by 16.6% in petrol (inland) and 10.6% in diesel (inland) since Jan 2012 (Jan 2012 to June 2013). Further, the price of fuel in the country has gone up by 235.9% and 352.4% in petrol and diesel respectively since Jan 2001.

This week the price of petrol will increase by 84 cents whilst Diesel will increase by 78 cents (inland), the weakness in the Rand has impacted on the cost of fuel.
After this round of fuel price increases consumers will be paying the highest petrol price (R13.00 per liter) since April 2013 where the price was R12.97 per liter (inland).
Increases in food, energy and transport costs (including toll fees) will impact on consumer disposable income.
Household Debt to Disposal Income remains high at 75.8% (Q4 of 2012 latest available update)
According to the National Credit Regulator, a number of consumers classified in good standing has decreased by 76,000 to 10.55 million consumers, whereas the number of "consumers with impaired records" increased by 189,000 to 9.53 million (47.5% of 20.08 million credit active consumers).

This represents a decrease of 0.7% quarter-on-quarter and 1.1% year-on-year of the total 20.08 million credit active consumers.
There are 13.5% of consumers with adverse listings, and another 13.5% of consumers with judgments and administration orders.
If this trend continues the number of up to date accounts will be equal to the number of accounts that are 3 or more months in arrears by September 2014. (Source: NCR, info derived)
Some statistics on Standard Bank related numbers:
For the period January to May 2013 Standard Bank experienced growth of 18.9% in applications compared to the same period in 2012.
The average contracted original settlement term per deal is 56 months (59 months for Personal customers, and 53 months for Commercial/Business customers). The actual settlement term per deal is 44 months (44 months for Personal and 43 months for Business Customers).
Applications with RVs requested represent 14.5% of all applications. With consecutive month on month growth achieved since January 2013.
Applications with deposits requested represent 30.5% of all applications. This figure has been dropping for the second consecutive month.
[Comments on NAAMSA New Vehicle Sales Report – June 2013 by Sydney Soundy – Head of Standard Bank Vehicle Asset Finance]