Consumer Advice for New Car Buyers: eTolling Costs and Monthly Car Expenses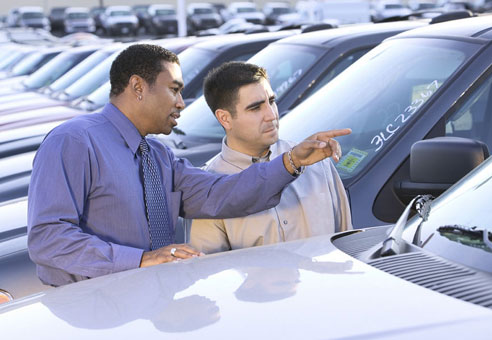 The announcement that the e-toll system in Gauteng is going live on 3 December brings with it the expected increase in motoring mobility costs for those consumers affected. According to Rudolf Mahoney, Head of Research at WesBank, it is plausible that for some commuters, the monthly cost of e-toll payments could initially make up more than 20% of a commuter's 'monthly mobility basket'.
Mahoney says, "WesBank has been analysing changes in the annual costs of commuting for some years now. Our calculations* assume certain controlled parameters, for example looking at an entry level vehicle that cost R100 000 in 2007 which travels an average of 2 500 km per month inland, and runs on Unleaded 93 petrol.
"In this particular WesBank example, the calculations are for someone commuting daily return trips in Gauteng on the M1 between Rivonia Road and Atterbury Avenue for a 20-day work month, thus 40 trips per month, and travelling at peak hours as the majority of people will do.
The calculations – which are based on information sourced from the Sanral website – have been calculated for a commuter who has not bought an e-tag, as it seems many commuters have not yet organised this and the announcement of the e-tolling system going live was made just yesterday, with less than two weeks to the going live date."
The following graph shows that under the parameters described above, commuting costs for such a driver would initially increase from just under R6 000 in 2012 to almost R8 000 as at December 2013. This brings cost factors that potential new car owners should consider carefully.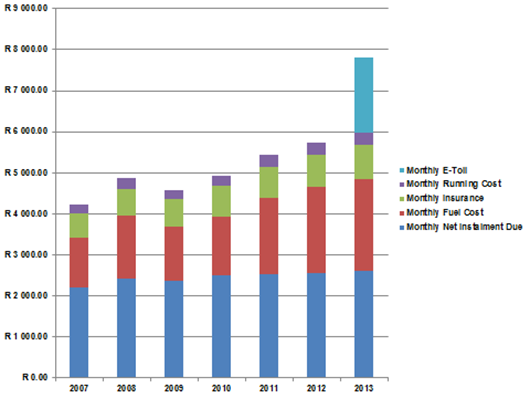 Mahoney clarifies, "This means that for such a commuter, the overall costs of owning and operating a car, when comparing December 2012 to December this year, would have increased by 36%. The costs involved in owning and running a car can play a major role in an individual's monthly expenses, and yet the present low interest rate environment means the car's payment instalment now tends to make up less than half of an owner's total monthly mobility costs. We can see a significant change especially when comparing 2012 to 2013.
"Therefore, when buying a new car, the total mobility costs over and above the car's instalments need to be considered and budgeted for. As well as e-toll costs which will now come into play for many commuters in Gauteng, other factors that need to be considered when planning to buy a car include the significant increases in the price of fuel, insurance premiums that increase annually and the cost of maintaining the car."
WesBank provides various online calculators in order to help the consumer with the different areas of budgeting. These calculators include:
The WesBank Monthly Affordability Calculator: This will help you to determine what your monthly expenses are and what you can afford.
The Vehicle Purchase Price Calculator: Once you have worked out what monthly instalment you can afford, this tool calculates the maximum cash price of the car that you should buy.
The Vehicle Repayment and Insurance Calculator: This calculates the monthly instalment as well the various insurance product premiums.
Mahoney says, "Previously, WesBank's calculations considered four factors that affected your monthly mobility costs, which could be broadly be categorised into fuel costs, monthly instalments, running and maintenance costs. The most significant change in the monthly 'mobility cost basket' previously came from the fuel price, which has become one of the biggest expenses associated with owning a car in previous years. Now, however – at least for many Gauteng commuters – it can be argued that the biggest change in the monthly mobility costs basket is having to factor e-tolling into one's daily commute to work. New vehicle buyers should consider the overall picture holistically when planning to buy a new car."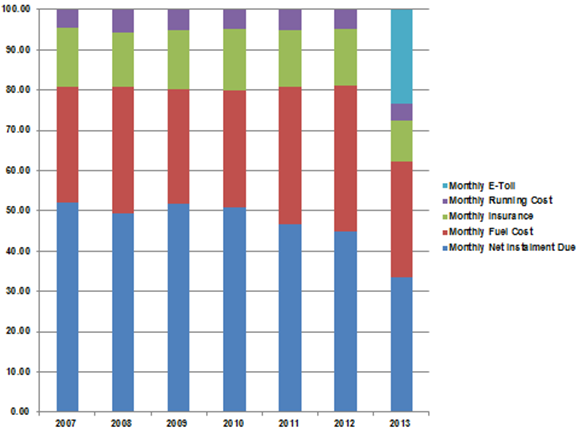 Mahoney notes that car insurance is vital to protect you from potential financial catastrophe in the event of theft or a serious accident and that it is critical to ensure that your car is comprehensively insured at all times.
"With e-tolling having now been given the green light, those who are planning to buy a new car are well advised to focus on the various factors making up their 'personal mobility costs basket' in order to optimally manage the monthly expenses of owning a car," concludes Mahoney.
*Our Mobility Calculation Model is based on an entry level vehicle costing R100 000 in 2007, increasing by new vehicle CPI rate compounded annually, travelling an average of 2 500 km per month, running on Unleaded 93 Inland. Financed at prime +2% over 60 months with no Balloon Payment (Source: WesBank Calculators, SAPIA and AA websites).
About WesBank:
With over 40 years of experience WesBank has become the leader in asset-based finance solutions in South Africa. The company is focused on providing quality asset finance and fleet management solutions for a number of market sectors. WesBank's asset finance portfolio includes Aviation, Agriculture, Commercial and Company Vehicles, Plant and Office Equipment, Public Sector and Franchise finance solutions. Visit www.wesbank.co.za for more information.