Kathu Police nab two housebreaking suspects, stolen items recovered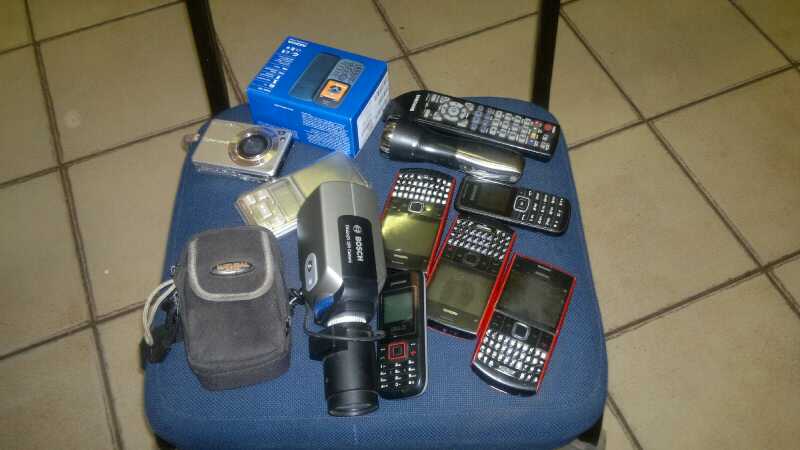 Police in Kathu have made a breakthrough in the housebreaking cases when two suspects were arrested over the weekend (22/03-23/03).
It is alleged that during the early hours of Friday morning (21/03 at about 03:00), a resident of Bestwood was asleep when intruders entered his house.
A TV set, a laptop, personal documents and a cellphone was taken. Entry was gained through an unlocked door.
Police followed up on information received and their investigation led them to a house in Maputeng. Four(4) TV's, 3 laptops, 2 video cameras, an ipod, 73 mandrax tablets, 2 cameras, 16 sealed bags of tik crystals, 7 cellphones and a packet containing an unknown powder(suspected cocaine) was confiscated.
On Saturday, 22 March, a 35 year old man was arrested in Kathu while the second suspect, aged 23 years old was arrested on Sunday, 23 March, also in Kathu. Both suspects were charged with housebreaking and theft and appeared in the Kathu magistrates' court on Monday, 24/03. Lloyd (35) and Johan Holthauzen (23) were denied bail and will appear in court again on the 14 April 2014.
Police are appealing to the public who have been victims of housebreaking, to come forward in order to identify the recovered items. D/Sgt Karlin Grobler of SAPS Kathu may be contacted on 0836028607.
Police are also warning the public not to buy stolen items from suspected criminals. If found in possession of stolen property, they will be charged and their property confiscated by the police. Instead police is appealing to the public to report criminal behaviour to them.
Also view: