Labour Minister advises domestic workers to register for UIF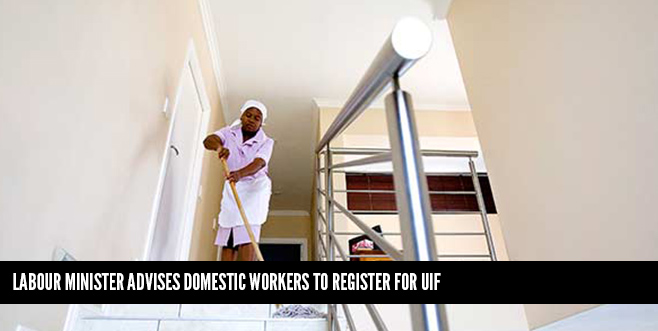 Labour Minister Mildred Oliphant has implored workers in the domestic sector to register for the Unemployment Insurance Fund (UIF) to cushion themselves in case they lose their jobs.
Oliphant told a Domestic Sector Imbizo organised by the Department of Labour in Ethekwini City Hall today, 16 March that the number of domestic workers currently registered with the Unemployment Insurance Fund stands at 652 676. She said this figure was not a true reflection of the total number of domestic workers in the country.
The Minister told the more than 1 600 domestic workers who packed the Hall that institutions like the Unemployment Insurance Fund have played a critical role protecting workers against poverty by providing unemployment insurance and other benefits to workers.
"We know that some employers of domestic workers do not register their employees with UIF. The department has set in motion the legislative framework for you to be registered. However, in order for us to enjoy the benefits of a better life for all, you as domestic workers need to assist government to ensure that you are registered with UIF.
"Our database also shows that 7 034 active taxi employers are registered for UIF. It is odd and ironic that even though the taxi industry is one of the largest employers in the transport industry, but the number of registered and active employers from that sector is miniscule. What this means is that there are a number of people who are not protected as they should be and it is the duty of us all to ensure that as many people as possible are registered for UIF.
Oliphant told the domestic workers that following the International Labour Organisation's (ILO) domestic Workers Convention, 2011 (No. 189) that came into force in September 2013, extending basic labour rights to domestic workers around the globe, South Africa has become one of 10 member States that have ratified the Convention.
The adoption of the Convention was a representation of a key milestone on the path to the realisation of decent work for domestic workers. Figures by the ILO estimated that there are at least 53 million domestic workers worldwide, not including child domestic workers, and this number is increasing steadily in developed and developing countries. ILO member states that have ratified the Convention include South Africa, Bolivia, Germany, Guyana, Italy, Mauritius, Nicaragua, Paraguay, Philippines, and Uruguay. The Convention provides for new laws or regulations geared towards improving domestic workers' labour and social rights.
She said the vulnerable, and "invisible" domestic sector was set to benefit from proposed extension of provident/pension fund. The Minister also added that the Compensation for Occupational Injuries and Diseases Act (Coida) was also being reviewed by legal experts with a possibility of expanding this to the Domestic Sector and public hearings would be held soon on the planned review.
The Domestic Sector's current sectoral determination came into effect from 1 December 2013 and will end on 30 November 2014. The minimum wages apply for domestic workers who work more than 27 hours per week applies as follows:
Area A (mainly urban) R9.63 hourly, R433.35 weekly (for a 45 hour week) and R 1877.70 monthly (for a 45 hour week)
Area B (mainly rural) R8.30 hourly, R373.50 weekly(for a 45 hour week) and R1618.37 monthly(for a 45 hour week)
Sectoral Determination regulates employment conditions in the vulnerable sectors of the economy. The purpose of Sectoral Determination is to lay down conditions of employment for workers such as the minimum wage rates, hours of work, leave, termination of employment among others.
South Africa currently has sectoral determinations for Domestic Worker Sector; Artistic and Cultural Activities; Children in the Performance of Advertising Sector, Civil Contract Cleaning Sector; Civil Engineering Sector; Farm Worker Sector; Forestry Sector; Hospitality Sector; Learnerships; Private Security Sector; Taxi Sector; and Wholesale & Retail Sector.
The Minister pointed out that certain categories of workers are excluded from contributing UIF. She said some of these include employees on learnership, workers who work less than 24 hours and public servants.
"In future all these workers will be eligible for UIF coverage. The proposed amendments also go further and will allow, for example an applicant who applied for UIF benefits four months after having lost a job to receive full benefits owed to them. Currently, it would mean that such an applicant would have lost four months in terms of the payment period. Furthermore, the proposals to amend the UIF Act also extend the current period in which to claim from six months to a year," Oliphant said.
Also view:
Insurance product allows us to better protect our domestic workers!!