Ctrack wins the PMR Diamond award for best service delivery in Cape Town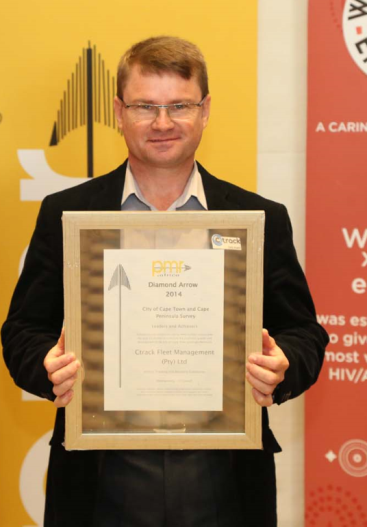 Ctrack a fleet management and vehicle tracking company has recently received a PMR Diamond Award.  Adjudicated by the PMR research council, Ctrack's Cape Town office was crowned a winner for best service delivery in the region for the second year in a row.
The industry accolades evaluate industry excellence, recognise team or divisional achievements by means of research to rate and measure customer service and customer satisfaction.
The PMR awards results are based on external surveys within various service industries and a company or individual must be nominated to receive an award. "It is a prestigious honour to receive this, and we are proud of the dedication and hard work from our team in Cape Town.
The awards set a benchmark for the industry to always strive towards meeting our customers' needs and service delivery excelling in our mandate to be the best telematics solutions provider," said Nick Vlok – DigiCore CEO, supplier of Ctrack.
About DigiCore / Ctrack:
Ctrack is part of JSE listed DigiCore Holdings and specialises in vehicle tracking, fleet management solutions and insurance telematics for a global client base. With more than 28 years of innovation, technical and implementation experience, Ctrack is recognised as a world-leading provider of advanced machine-to-machine communication and telematics solutions that adds value to this global base of customers with mobile assets.
Ctrack's end-to-end research, design, development, manufacturing, sales and support of customised solutions for customers is serviced by a global network of staff and team members in more than 50 countries.
The company's technology and electronic division designs and develops a robust range of asset management and monitoring systems using GPS satellite positioning, GSM cellular communication systems and other advanced communication and sensory technologies.
The result is innovative and advanced machine-to-machine communication that provide Ctrack customers with 24x7x365 information and monitoring of their mobile assets that help them to achieve operational efficiencies and cost reduction targets.
Operations span six continents, with over 1,000 employees and more than 800,000 systems sold.
Also view:
Insurance Telematics and Driver Behaviour Measurement with Ctrack