Mathys Roets buys the first Casual Day sticker!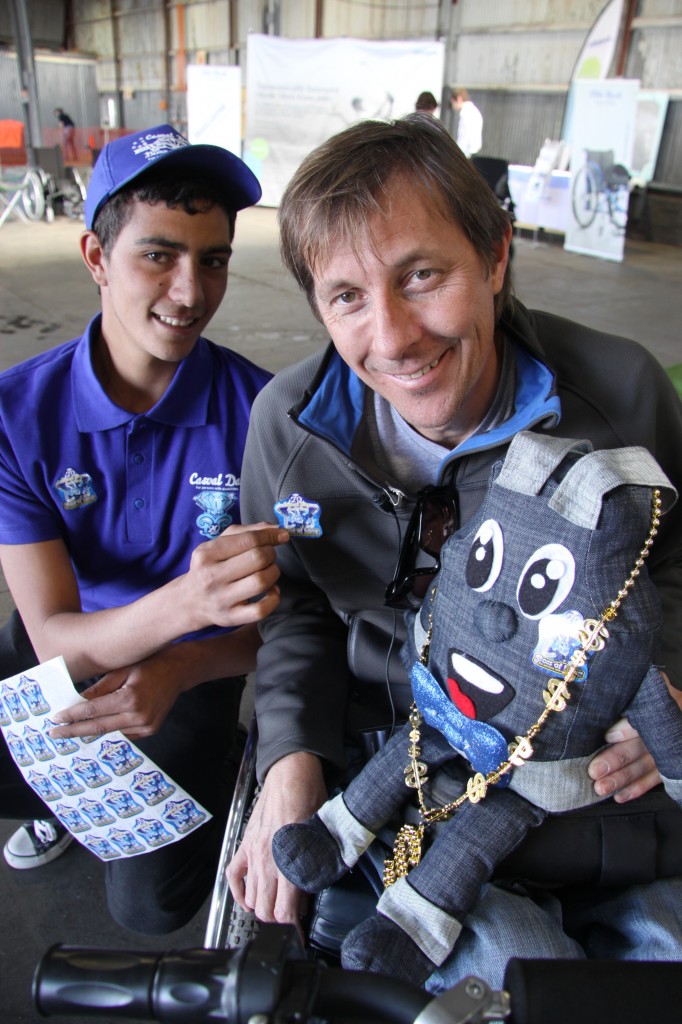 Musician and performer Mathys Roets showed his support for Casual Day by buying the first sticker from Casual Day staffer Tristan Steytler in Centurion on Saturday. Mathys's donation went to the Casual Day campaign Curamus Association for the Security Force Disabled. Curamus kicked of its 2014 Casual Day campaign at the Disability Drive and Thrive Expo held at the Swartkops Airbase this weekend.
"Curamus was established in 1990 to serve and support former as well as current members of the SADF, non-statutary forces, as well as the current SANDF. We also have members who serve in the SA police as well as the Department of Correctional Services," says Kobus Swart, CEO of Curamus. "After 1994 Curamus was restructured to include all disabled veterans of the South African National Defence Force. Civilian employees and dependants were then also included. Our mission is to promote capacity building in terms of disability issues in departments; to give a different and objective perspective in strategic planning; to give specialized input in terms of the needs of people with disabilities; to be an ear on the ground for policymakers, and to identify the frustrations and problems that people with disabilities experience.
"People with disabilities are still experiencing discrimination and are being pushed to the margins of society," he says.
Curamus raises funds through Casual Day and kicked off its 2014 campaign at the Disability Drive & Thrive Interactive Exhibition at Swartkops Airbase on Saturday. This annual event is where ideas are shared, products are showcased, vehicles are test driven and wheelchairs are left standing empty while the users are having fun. The event aims to change perceptions of disability by showcasing groundbreaking mobility devices and vehicles for the disability sector.
Musician Mathys Roets was one of the exhibitors and was demonstrating the offroad wheelchair he is manufacturing in South Africa. He was just one of many exhibitors who are challenging the limitiations of living with a disability. Roets was injured in a motorbike accident in 2009 and is now a paraplegic. However, he lives life to the full and says "In the past I was often insecure, particularly when I was in a difficult situation of if I had to handle a crisis. Now that I am confronted with a difficult situation, it is good to know that I did not give up hope."
The Casual Day campaign for 2014 has been launched this month; Casual Day is on Friday 5 September this year. "NGOs and companies that participate should start planning their campaign now, because Casual Day is not only a day, it is a project that we work on all year. This year we are working especially hard since it is our 20th anniversary and everyone will be planning something special," says project leader Celeste Vinassa.
Casual Day is South Africa's most successful fundraising project for persons with disabilities – and the amount raised for last year has climbed to R24.8 million. Sponsored by The Edcon Group, Casual Day is the flagship project of the National Council for Persons with Physical Disabilities in South Africa (NCPPDSA), which this year celebrates 75 years of service to the community of persons with disabilities.
The funds are raised as a result of a R10 donation for a Casual Day sticker. The theme for this year is Bring out the Bling. Casual Day provides the country with the opportunity to show their solidarity with persons with disabilities, at the same time enjoying teambuilding and camaraderie with their fellow participants. It gives South Africans the opportunity to be creative and have fun while contributing to the betterment of society. It is community spirit in action.
Remember, remember Casual Day is on Friday 5th September.
Anyone who would like to support Curamus's Casual Day campaign can call Kobus Swart at (012) 314 0185.