Nelson Mandela Bay Tourism – Mandela Day with penguins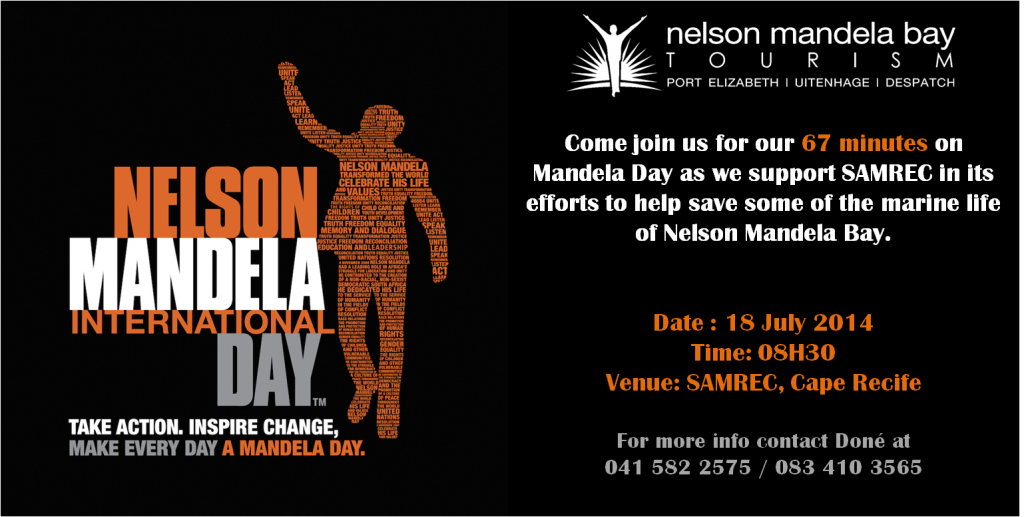 18 July 2014 will be an extraordinary day as we honour global Icon Nelson Mandela by implementing the first 67 minutes of service legacy since his passing.  Nelson Mandela Bay (Port Elizabeth Uitenhage and Despatch) the only destination privileged to bear the name of Madiba will unite through the implementation of a variety of service  projects throughout the Bay and show the world why we are known as the city of Freedom.
"It is through Mr Mandela's leadership, sacrifices, devotion to humanity and humanitarian causes that we are able to live not only in a city of freedom, but an entire nation which has been liberated. It is for these and many other reasons that we will continue to salute and thank Madiba by implementing these legacy campaigns", shares Ms Skefile, NMBT CEO
Nelson Mandela Bay Tourism has opted to provide public service to the South African Marine and Rehabilitation Centre (SAMREC) this year and invites anyone interested to join. SAMREC is not only a rehabilitation centre for marine life but also plays a vital role in educating the youth about the environment. Since the doors first opened, it has developed into so much more with the "SAMREC sea school" that plays a pivotal role with a number of education programmes to schools, clubs and other institutions in the region.
SAMREC Sea school teachers also visit both rural and urban schools and use a wide variety of apparatus to expose children (who might not otherwise ever learn about the Ocean) and their teachers to a virtual marine setting. The SAMREC Centre has proved to be an exciting and attractive tourist attraction, recently being named top tourist attraction in Port Elizabeth by the popular Trip Advisor website.
Due to high running costs of which the daily electricity consumption is the highest expense SAMREC is in danger of closing down. In order to overcome this enormous obstacle SAMREC has decided to "go green" by installing solar panels. Approximately 120 solar panel kits are needed to go of the electricity grid completely and this will enable the centre to be self sufficient.
Till date an amount of approximately R66 000.000 has been raised by NMBT and SAMREC through various donors and sponsors. This initial phase has lead to the opportunity off the first installation of 12 panels being installed on Mandela Day for SAMREC. Sponsors include:
Elnino Solar
Environserve,
The Nelson Mandela Bay Tour Guides association
C. Booysen
Mr. Port Elizabeth and Heinz
NOSA / She Representatives
SA Plastics
Judy Clark
South African Stay
Rasheed Desai
Kempie
Smith's Fishing Group
Grey Junior
Ms Libby Sharwood of SAMREC said, "We are extremely grateful and happy for all that have contributed to the start of the solar panel installations as this will go a long way to reducing the electricity bill and running costs of the centre." SAMREC confirms they still need many more panels to enable them to be completely off the grid.
The day will commence as NMBT CEO Ms Skefile hands over a cheque of funds raised, followed by some painting and service around upgrading some of the facilities. Building and painting of an orange "stone sun" will also take place adjacent to the penguin pool symbolising the energy from the sun and the role it plays in saving the penguins. All volunteers and public wishing to join are sure to have a fun day while making a difference. In the spirit of Madiba and his vision to spread social justice and freedom for all, this is your chance to become a part of a continuous global movement for good.
As Madiba once said, "It's in Your hands to make a difference."