Tuk Tuks helping commuters moving forward in Sandton and Rosebank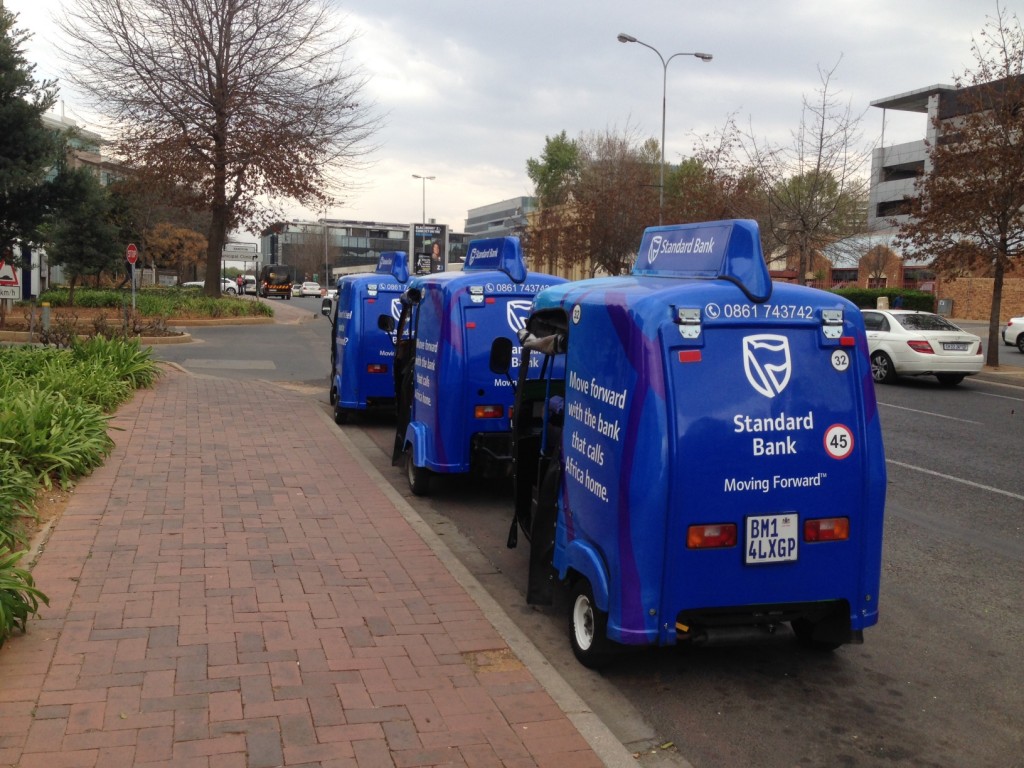 Sometimes the walk is just too far and the drive too short or you find yourself with a heavy laptop or overnight travel bag and you desperately need a lift! The Tuk Tuks now provide a efficient alternative to the traveller in Sandton and Rosebank. I have reacently taken a ride from the Gautrain to the Balalaika hotel and decided to enquire about these vehicles.
They are very visibly branded with Standard Bank branding – What has motivated Standard Bank to become involved as a partner offering this type of commuter transport?
Shesha Tuks are the owners of the vehicles and custodians of the permits in Johannesburg. Primedia Unlimited secured the exclusive advertising rights for the Tuk Tuk passenger initiative offering advertisers the largest number of branded, legally operated Tuk Tuks in the country. Standard Bank has opted to purchase the advertising rights to the Tuk Tuks as we feel they are a visual representation of our pay off line, Moving Forward – a moving billboard of sorts.
Standard Bank understands that everyone moves forward in different ways – whether its paying for your child's education or your name on that door – but the thing we all have in common is how good we feel when we do.
The Tuk Tuks are a very literal representation of Moving Forward, but if Standard Bank can help move people from A to B, then that's great too.  The Tuk Tuks are essentially Moving billboards, which also ties in nicely with our media strategy to innovate in outdoor.
We also felt that the franchise model perfectly matched our purpose of moving people forward, in this instance, the drivers.  The Franchisees (drivers) earn their income from the fares, with nominal rental payable to franchisor thus the more entrepreneurial they are, the faster they move forward in life.
What are they called? Shesha Tuks    0861 743 742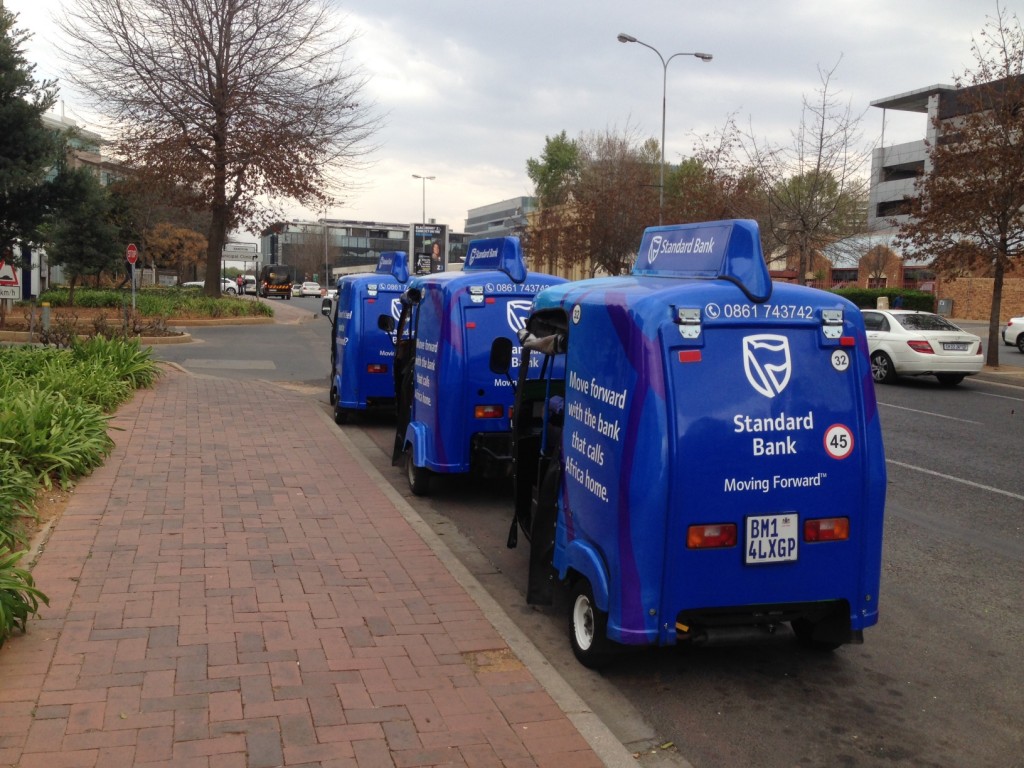 How many of them are operating on our roads and in which areas?

33 in Sandton and Rosebank
Are there specific parameters within which these vehicles have to operate such as routes, distances travelled, pricing/tariffs, maximum speed or weight carried etc?
We operate in Sandton CBD and Rosebank , The tuk tuks average about 100km per day each , the drivers work on a commission basis so they try work in as many trips as possible – Average trip is about 4 – 7km each
Tariffs works as follows
R25    up to  3 km
R35    up to  4 km
R45    up to  5 km
R55    up to  6 km
R65    up to   7km
R75    up to   8km
R85    up to   9km
R95    up to    10km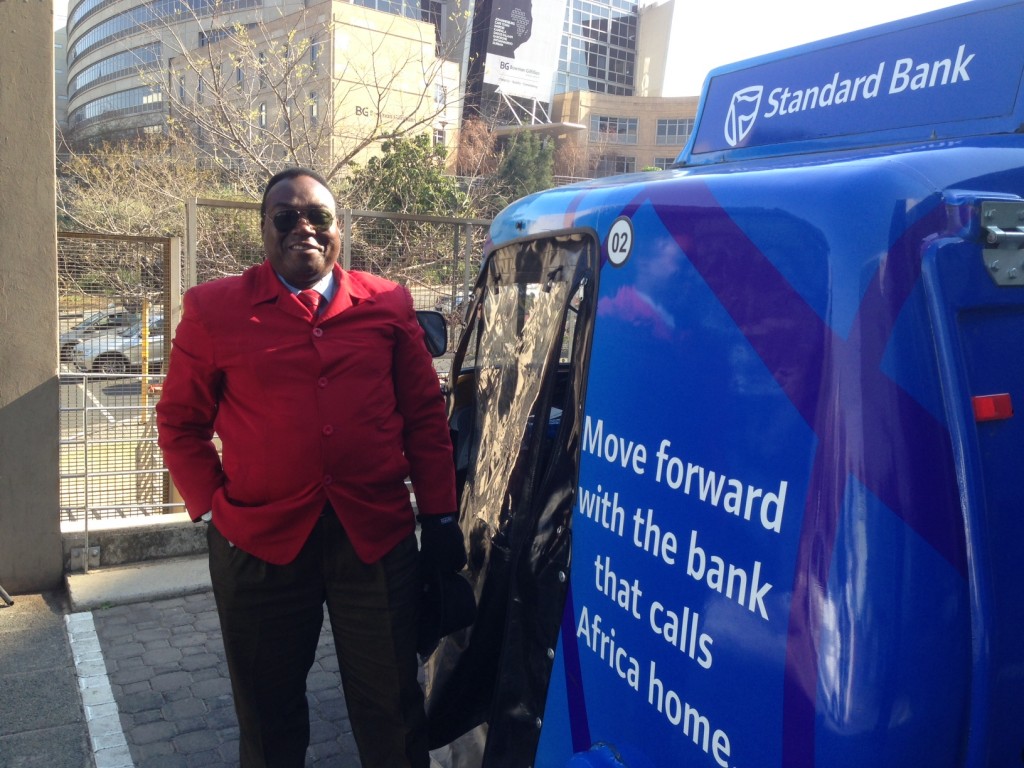 How do you ensure that they share the roads without conflict with other taxi services – is there an agreement or mutual understanding between the different operators?
Shesha Tuks are legal but unfortunately a lot of the other taxis are not and don't always play by the rules however we have managed to build a relationship and are now seen as part of the network and don't experience any problems as we effectively offer a different experience and service
Have you had positive feedback from commuters on this service  -i.e. from Gautrain to hotels etc.?
Yes a lot of very positive feedback , most of our drivers have built up a book of regular customers who use them on a daily, weekly and monthly basis