Are homeowners correctly insured when offering modern accommodation type options to their Guests?
In recent years many homeowners have decided to benefit from modern accommodation options. They have made their homes available to couch surfers, made money by registering the property and "renting it out" as an Airbnb, or gained some accommodation points by making their homes available through HomeExchange.
These options might not have been available at the time the home was purchased and insured and leads to the following very important question:
Are these homes correctly insured and are there different risks to the insurer where strangers inhabit the home from time to time?
[We have decided to approach a few insurers for their insights and advice and would like to share this opinion based on the responses received from MiWay, King Price and Hollard]
A home that is lived in by the owner (insured party) and a home that's lived in or shared by paying guests are 2 different types of risk.
Most insurers consider the difference as falling under what is called "Personal Lines Cover" as compared to "Business Cover".
The 1st will fall under personal lines cover:  This is where the house contents are insured with the owner, the owner of the contents being the only occupant of the house.
The 2nd must fall under business insurance: here we are dealing with a different risk as the contents are not only exposed to the owner but also to the guests. This is clearly a much higher risk with a completely different risk rating model.
The difference in risk will have an impact on the insurance premium – the higher the risk, the higher the premium.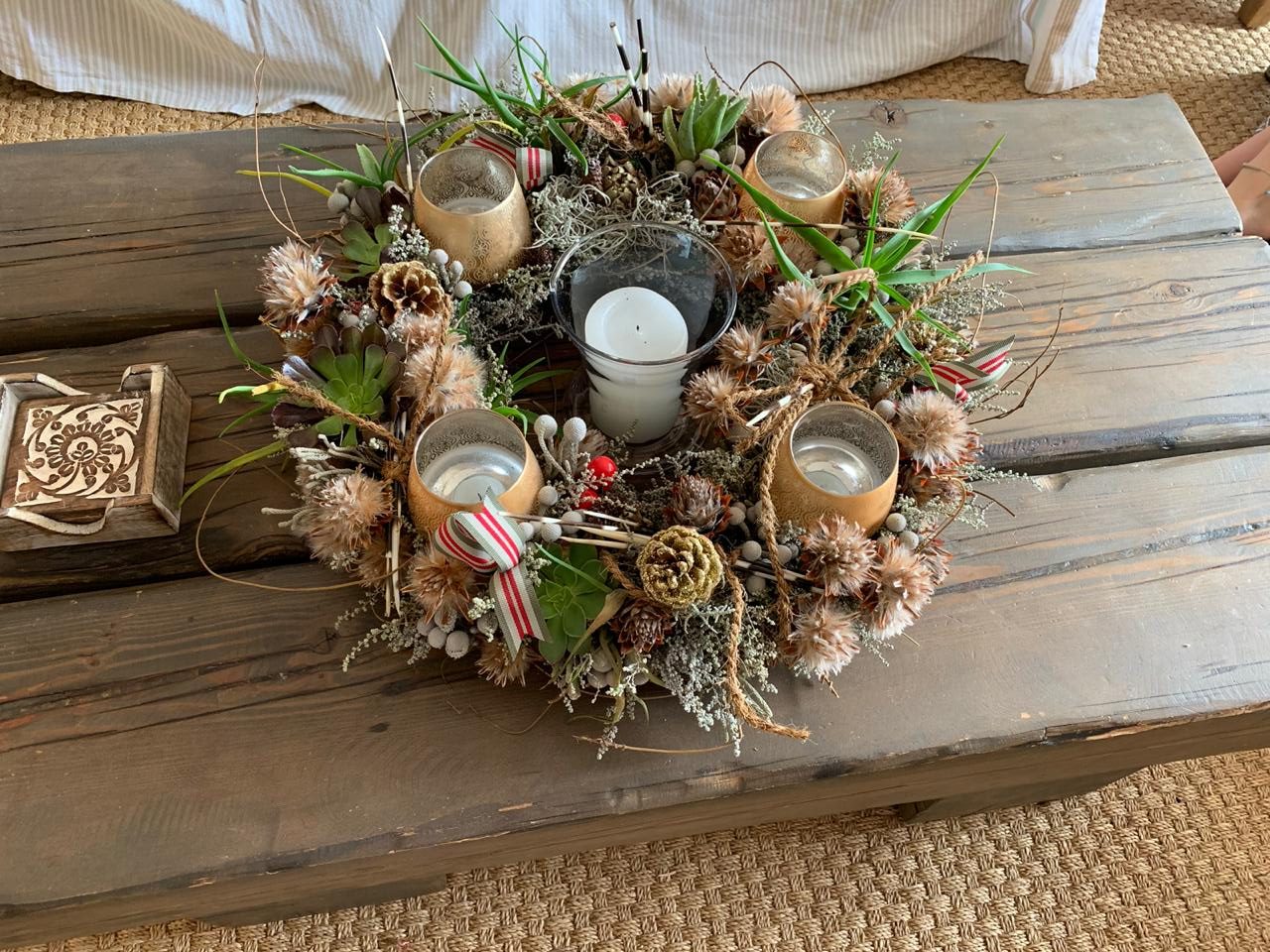 What would we advise homeowners to do?
A host should first contact the programme (Airbnb, HomeExchange, etc.) to find out whether they offer specialized insurance cover, or have a recommended insurer.
There is an obligation on you to inform your insurer if a house is utilized as a guest house of any nature. Insurance policies will specifically indicate cover under personal lines or cover for business use.
Keep in mind that there is an increased risk of loss, damage and liability (both personal and public) – similar to insurance for guest houses.
Most insurance only covers theft if there were visible signs of forced entry. If your guest has full access to your home, it would be hard to prove who stole the items.
A host may want to consider a public liability policy to cover guests' belongings and death or bodily injury. Although your personal lines personal liability may cover this, it is intended for guests who are not paying to be there.
Every scenario is different, hence the need to discuss your particular situation with your insurer. Your guests may have their own entrance, and no access to the rest of your house (think "granny flat"), you may be renting out a room in your own house (and guests would, therefore, have access), it may be a completely separate unit (think holiday home in Bloubergstrand).
A business insurance policy would most probably be the way to go, as the limits of cover are usually higher than that of a personal lines insurance.
Guests would need their own insurance for their possessions
If it's only insured for personal use, you will not enjoy cover for any loss or damage as a result of the property being exposed to guests.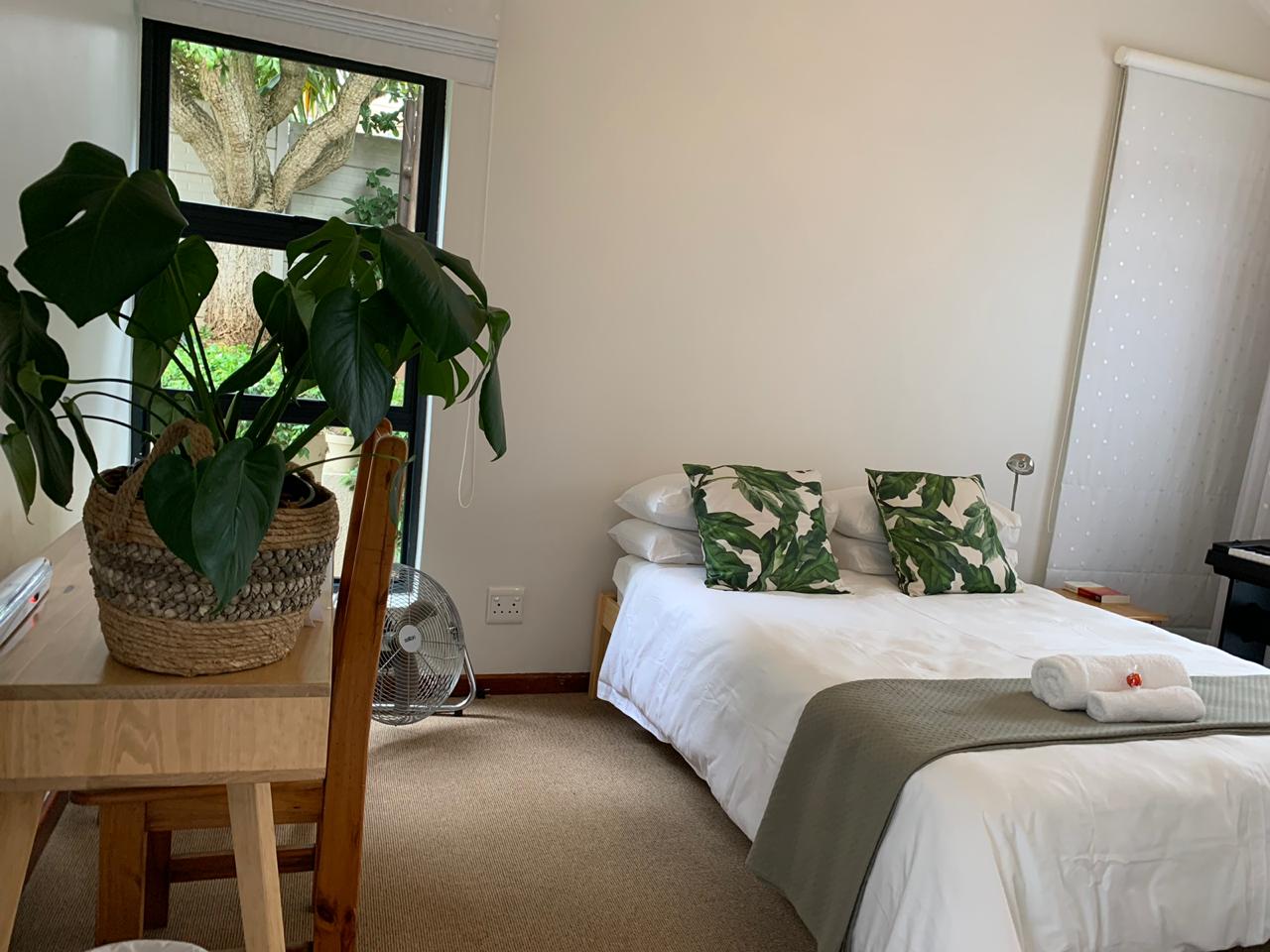 Example of an Insurance Contract covering these Modern Accommodation Options [Hollard]
So there were three different scenarios we considered:
Paying guest is staying at your BnB which is based on the same property you live at.
You live in your house for most of the year but every now and then you rent it out, like during the December and April holidays
You own a property that you rent out to many short term guests (like Airbnb), and you don't live on that property
We cater to each scenario as follows:
We have an optional benefit (which you pay an extra premium for) called 'Bed & breakfast' under the Contents section. The wording is as follows: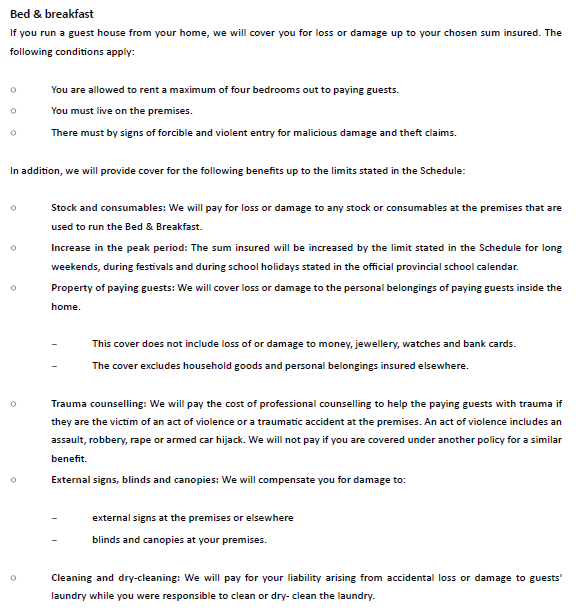 The limits and excesses are as follows:
| | | |
| --- | --- | --- |
| Benefit | Limit | Excess |
| Contents | Sum insured | R1 000 |
| Stock and consumables | R10 000 | Nil |
| Increase in the peak period | 25% of sum insured | Nil |
| Property of paying guests | R25 000 | Nil |
| Trauma counselling | R10 000 per person | Nil |
| External signs, blinds and canopies | R10 000 | Nil |
| Cleaning and dry-cleaning | R5 000 | Nil |
2. We automatically include a benefit called 'Holiday letting' under our Buildings and Contents sections of the policy. Below is the wording under each section:
Buildings:

We pay up to R10 000 per person for trauma counselling.
                Contents:

We pay up to R5 000 for accidental damage and up to R10 000 per person for trauma counselling.
3. This is not catered for on our personal lines policy, as we believe that this is a commercial risk which should be underwritten on a commercial policy.
Conclusion
It is always an important reminder that any insurance contract is an agreement signed in good faith and with full disclosure!  We recommend that homeowners fully disclose any risks or possible changes in their risk profile to their insurers. Keep all these communications in writing and you will be able to avoid unnecessary, time-consuming and expensive battles later!