SADAG invites Teachers & Parents to FREE Webinars on Teen Depression & Suicide Prevention
Teen Suicide Prevention Week (14 – 21 February 2021) highlighted the importance of understanding Teen Depression and Suicide Prevention.
As the COVID-19 pandemic has worsened across the globe and increased stressors, South African teens are at a high risk. Especially as they navigate a new world of online learning or delayed learning, Matric results coming out, the school year starting late and feeling disrupted, social isolation, loss, grief, trauma, with increased anxiety and depression.
If you are a Parent or a teacher, don't miss the FREE Connect sessions this week.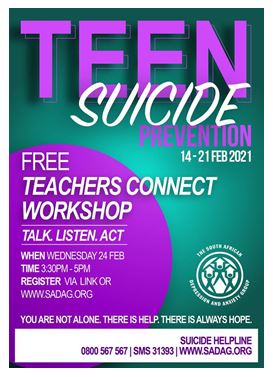 FREE Teachers Connect Webinar
With schools going back/online and the rough start to 2021, SADAG is hosting a free TEACHERS CONNECT WEBINAR on Wednesday 24 February 3:30pm – 5pm which is open to all teachers, educators or anyone working with youth.
Join experts on how to identify suicide and depression in teens, debunking myths, teen suicide safety plan, and how to get help. To book your free seat click on the Invite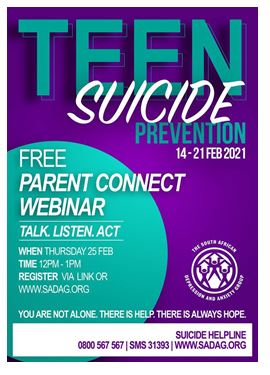 Free Parents Connect Webinar
SADAG will be helping Parents with practical tools and information on how to identify depression, suicide warning signs and how to get help. The FREE online CONNECT Webinar for Parents will take place on Thursday the 25 February from 12pm – 1pm.
During the Webinar there will be time for a expert Q&A to provide specific help and answers for parents who have dealt with any kind of these issues at home. Click the button below to book your seat.