Police commended for quick response and arrest of armed robbers after robbery at jewellery shop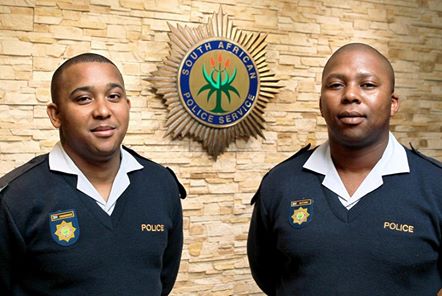 Constable Eugene Sonnenberg and Constable Bongile Rilityana showed outstanding commitment and dedication after ensuring that robbers were brought to book.
On 2014-05-20 AT 10:45 five suspects, dressed in SAPS uniform, armed with firearms and a portable radio, entered Newport House Jewellery Shop, in Ebernezer Road, Cape Town and robbed the complainant Mr Christopher Reid of diamonds to the value of R1.5 million, R100 000 worth of Kruger Rands and R80 000 cash. All five (5) suspects fled the scene. This registration number was circulated to all stations in the Province by Cape Town Central.
Constable Sonnenberg immediately wrote down the registration number in his pocket book and then proceeded on patrols with Constable Rilityana. Whilst on patrol they noticed a white Tida and immediately looked at his pocket book to confirm the registration number and pursued the suspects. The officers immediately followed this vehicle and arrested four suspects after a chased ensued.
Due to the members being very observant and committed while on patrol, they managed to arrest these suspects. They are an asset to the SAPS and an example to others.