Police arrests man for illegal transport & export of marine products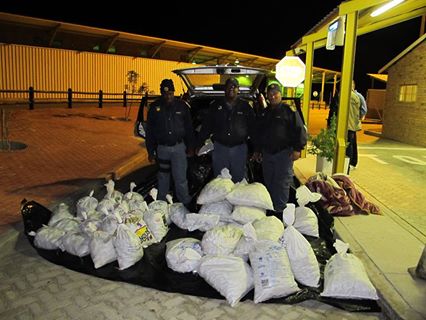 The SAPS Border Policing unit at the Vioolsdrift border post arrested a 63 year old Namibian businessman after finding him in possession of white mussels and squid. Paul De Wit was arrested on Monday, 07 July 2014 at approximately 01:00, after his vehicle was searched and the police found 11 400 white mussels and 20kg of squid in his vehicle.
The suspect was traveling from South Africa en route to Namibia at the time of the incident. Police confiscated the goods and the Nissan X-trail. The mussels and squid are protected species and the suspect did not have an export permit in his possession when searched by the police.
The estimated value of the marine products are R14 000,00. The suspect appeared in the Springbok Magistrates' Court today and received a fine of R6000,00 or 3 months imprisonment and a further R6000,00 fine or 3 months imprisonment suspended for five years.
"The Acting Provincial Head for Operational Response Services in the Northern Cape, Brigadier Deidre Desai commended the Vioolsdrift Border post members for their vigilance which led to this superb success".
Also view: