South Africans driving across neighbouring borders for Christmas must obtain authorisation from banks financing their vehicles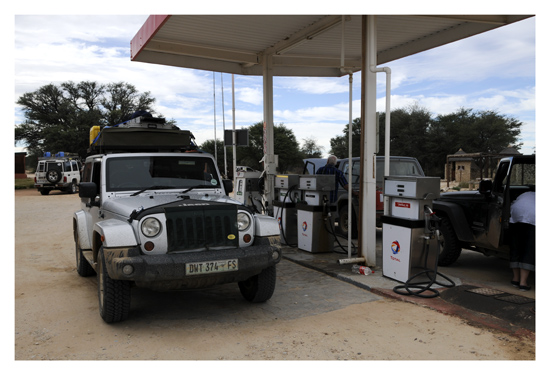 South Africans who are considering travelling to neighbouring countries such as Botswana or Namibia in their vehicle over the festive season must ensure that they obtain a 'Border Letter' from the bank that finances the asset to ensure they are allowed to enter the country.
This is according to Chris De Kock, Head of Marketing and Sales at WesBank, South Africa's leading moveable asset-based financial solutions provider, who says a Border Letter is a compulsory document that needs to be presented to officials at South Africa's border posts by the bank authorising a customer to temporarily move an asset outside the borders of South Africa.
"Border officials are able to access vehicle information from the licensing system and customers who don't obtain this letter can be refused entry with the vehicle. While a customer may be paying off the vehicle in monthly instalments, the fact is that until this is complete, the financier remains the ultimate owner of the vehicle and so needs to give authorisation for the vehicle to leave the country."
"It is also important to bear in mind that even though someone may have settled their account in full, if they have not yet changed the name of the titleholder from the bank's name to their own name, they will also still require a border letter," said De Kock.
He notes that there is also a prescribed list of neighbouring countries, so the owner must ensure that their intended destination is included on this list.
"In addition to the Border Letter, the authorities will also require a number of other pieces of documentation including a valid ID and passport, a valid driver's licence, a copy of the vehicle registration document (NATIS) as well as a copy of the insurance policy, confirming that the vehicle is comprehensively insured (theft, write off, accident damage) in the neighbouring country to be visited," says De Kock.
"If you are not the owner of the vehicle, it will also be necessary to obtain confirmation from the owner, which must be supported by a copy of the third party's drivers' license, a copy of their ID and passport as well as proof of comprehensive insurance confirming that the third party driver is fully covered," he says.
De Kock notes that the period for which the vehicle may be taken out of South Africa varies depending on each individual application of the validity period, as reflected on the letter provided by the Bank.
He says it should also be remembered that not all insurance companies offer comprehensive insurance cover to neighbouring countries. "In these instances the customer must engage with their respective insurer to clarify whether they are comprehensively insured for the duration of the visit in the specific country."
WesBank customers who are registered for WesBank Online Self Service can obtain a Border Letter and copy of their vehicle registration document (Natis) immediately by accessing their account and completing the online border letter form.
About WesBank:
With over 40 years of experience WesBank has become the leader in moveable asset-based finance solutions in South Africa. The company is focused on providing quality asset finance and fleet management solutions for a number of market sectors. WesBank's asset finance portfolio includes Aviation, Agriculture, Commercial and Company Vehicles, Plant and Office Equipment, Public Sector and Franchise finance solutions. Visit www.wesbank.co.za for more information.