Companies can geo-spatially analyze Census data against their own customers and competitors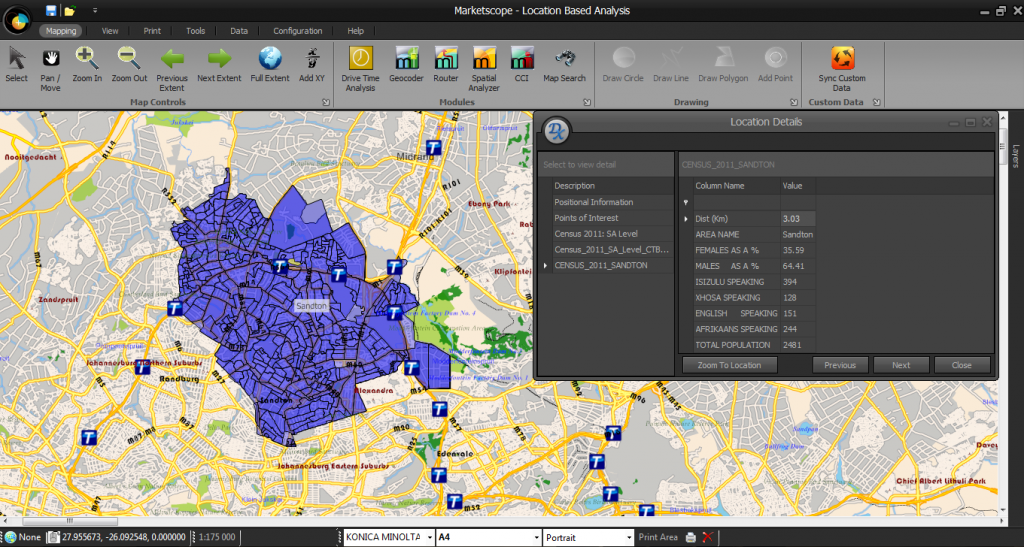 Do you know your customers, where they live and how they travel? Did you know that since the last Census conducted in 2001 the Gauteng population has increased by approximately 25%, and in Alexandra 27% of 167 072 are ISIZULU speaking. But what does this mean for businesses?
Well this data is invaluable to organisations that want to plan business strategies. For example retailers look for this information on who to target and what language to use in their marketing campaigns and where to locate new stores, finance providers are interested to know household income and gender in order to determine best audience for various banking related products. This list of needs goes on for every industry. MarketScope, powered by TomTom, now takes the latest Census data and allows companies to geo-spatially analyze this information against their own customers and competitors.
mapIT, leading international digital mapping partner throughout Africa, has released the latest Census 2011 data into their location-based business intelligence application, MarketScope.
The Census 2011 was a complex and massive exercise undertaken by Stats SA, it required mapping the entire country, mobilising and training a huge number of enumerators, canvassing all households to participate, collecting individual information, compiling vast amounts of completed questionnaires, and analysing the data.
mapIT have taken this vast amount of Census 2011 data and disseminated it down to key attributes and now offers this as an additional layer in MarketScope, includes data for race, age, gender, income, education, language, employment status, household size and total population within the local and district municipality boundaries.
"This inclusion of the Census data offers enterprise and government a comprehensive geo-spatial snapshot of their operations to allow planning, benchmarking and market analyses. It's a virtual replication of reality," says Etienne Louw, Managing Director of mapIT.
MarketScope's four-module application geo-codes, imports, integrates and overlays proprietary information – customer, store, supplier and logistical data and third-party demographic research including Census 2011 – onto a digital map for analysis and display in a geo-spatial context. Another new feature is the drive time analysis (DTA), which determines a drive time zone, the distance that be travelled through the road network in the given time. The tool selects a driving time according to the nature of a business and how much time people would probably be willing to spend in their cars to get to this location.
Louw adds "To ensure accurate analyses results, MarketScope comes standard with TomTom's high quality mapping data". Over the past 20 years TomTom has developed the world's most extensive digital mapping database, which includes for Africa over 10 million km of roads and 2 million POI (Points of Interest).
For more information visit www.mapit.co.za/marketscope or watch the video http://www.youtube.com/watch?v=eEH9NVHWmkc
Click to view the video: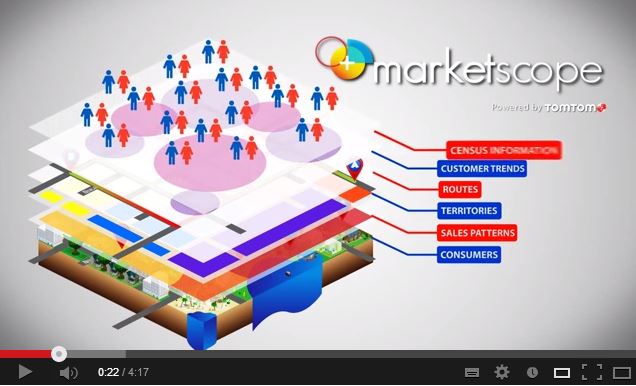 Also view: Digital Mapping and Road Safety
About MarketScope:
MarketScope, location-based business intelligence application, analysing statistical data in a geo-spatial context MarketScope can profile various geographically located activities in graphic form on a detailed map. Functioning off a powerful geo-spatial search and query capability, strategists and planners, for example, use the application to reduce the traditionally high costs associated with labour intensive GIS activities.
About mapIT
mapIT, a division of TomTom Africa, offers businesses high quality digital maps with accurate and extensive coverage of Africa and across the globe. Furthermore they offer this map data on the world's foremost Location Based Services (LBS) platform, mapIT are an all-encompassing digital mapping company. Working together with TomTom Africa Partners, mapIT establishes innovative and comprehensive suites of digital mapping platforms to position itself as the leading international enabler of accurate location-based platforms throughout Africa.
For more information visit http://www.mapit.co.za
About TomTom
Founded in 1991, TomTom (AEX:TOM2) is the world's leading supplier of in-car  location and navigation products and services focused on providing all drivers with the world's best navigation experience. Headquartered in Amsterdam, TomTom has 3,500 employees and sells its products in over 40 countries.
Our products include portable navigation devices, fleet management solutions, maps and real-time services, including the award winning TomTom HD Traffic.
For the world's most up-to-date route planner, including live traffic information, go to www.tomtom.com/livetraffic
For further information, please visit www.tomtom.com